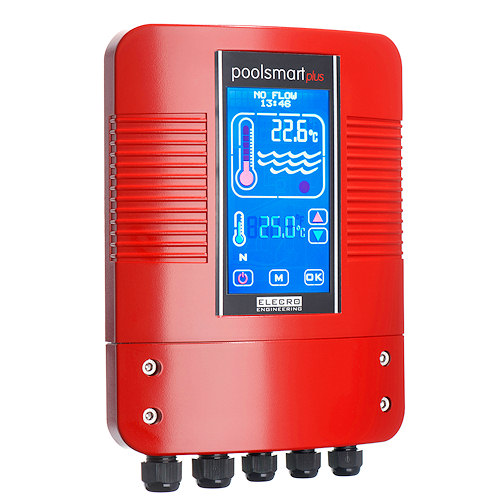 The PoolSmart Plus heater controller from Elecro comes complete with a flow switch and temperature sensor probe.
The PoolSmart Plus is the intelligent pool control system that allows you to control and maintain your pool to the perfect temperature as economically as possible.The controller features a digital touch screen display, allowing you to control the functions at a touch of a finger.
The priority heating function allows the controller to override the circulation pumps time clock, switching the circulation pump on and therefore allowing the heating appliance to heat your pool water to the required temperature. The controller will then switch the circulation pump off, ensuring your pool is always maintained at the perfect temperature. 
The Complete Control Solution For:
Electric Heaters
Heat Pumps
Gas Boilers
Oil Boilers
Circulation Pumps
This clever device can be easily fitted or retro-fitted to your pool system.
Features:
Digital Touch Screen Display
BMS (Building Management System) Integration Ready
Priority Heating - Ensuring your pool is constantly maintained at the perfect temperature
Accurate Temperature Control to 0.5 Degrees Centigrade
Diagnostic Display
Programmable 24 hour time clock
Pool Temperature Display
Suitable for use with salt water pools