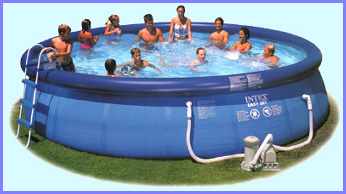 The 15ft Easy Set inflatable swimming pool from Intex
This above ground pool is so easy to set up. You just blow up the top ring and fill it with water.
It is not just the pool you are buying along with the pool comes a pump and filter unit, a ladder, a ground cloth, a debris cover and a maintenance kit.
Intex have been making inflatable pools longer than any other company and are the market leaders for quality and innovation. Side walls are 48 inches (122cm) high and made from 3 separate internally reinforced layers of super tough PVC. This gives the intex pool the biggest water area of all of this class of above ground pool.
220-240 volt filter pump (3.8m3/h)
15ft pool cover
Pool ladder
Ground cloth
Instructional DVD
Capacity 80% = 14,142 litres
Case weight: 108.6Lb. (49.4Kg)
RRP £412.00 PoolStore Price   Now £295.00 Including VAT and Delivery.
Delivery of these pools is normally within 2-3 weeks from order.