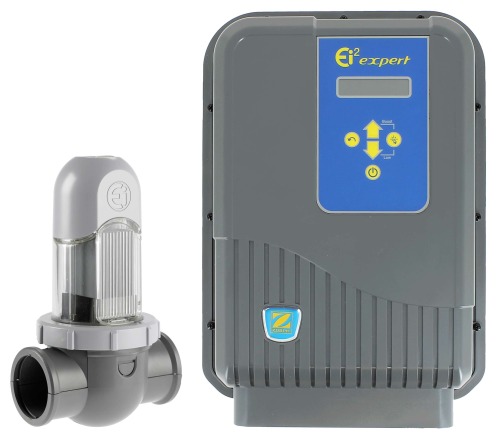 The Zodiac EI Expert salt water chlorinator is perfect for retro fitting on to an existing swimming pool.
Easy to install
Easy to operate
Easy to maintain
Salt water chlorinators are usually installed during the pool building process but the Zodiac EI is the first salt water chlorinator specifically designed to be retro fitted. Drill a couple of holes with the drill bit provided in to any horizontal pipe longer than 6 inches and clamp the chlorinator on. Hang the power unit on the wall and connect up the wires. One more hole and a clamp for the flow switch and that is all that is required to start enjoying all the benefits of salt water chlorination.
The EI comes in 3 versions depending on the size of your pool.
| Model | Max. Pool Volume | Typical Pool Size | Retail Price | PoolStore Price |
| --- | --- | --- | --- | --- |
| EI 10 | 40m3 or 9,000 gallons | 14ft x 28ft | £1,539.00 | £1,295.00 |
| EI 18 | 70m3 or 16,000 gallons | 18ft x 36ft | £1,761.00 | £1,455.00 |
| EI 25 | 100m3 or 22,000 gallons* | 20ft x 40ft | £2,143.00 | £1,715.00 |
we have an EI25 working perfectly in a 27,000 gallon pool
Delivery lead time on these products is around 2-3 working days