DIY Polymer Panel Swimming Pool Kits
It is not difficult to build your own inground swimming pool especially if you let PoolStore help you
If you can dig the hole then we can supply you with all the specialist equipment you need to build a pool and give you all the advice you'll need on how to install it. If you prefer to have all the hard work taken away then we have expert teams on hand to do it all for you.
Whether you get someone to build it for you or build it yourself you can see here what kits are available and how much it will cost.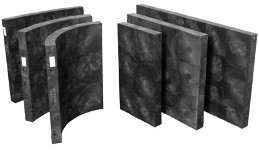 Various size panels combine to make any size of pool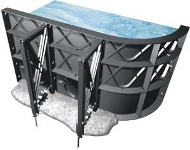 Rigid Polymer Resin Panels clip together with back braces
We supply rigid panels that interlock together to form the wall of the swimming pool doing away with the need for expensive blockwork and the time delay while the mortar between them sets hard. You dig a hole, assemble our polymer panels to form the four walls, brace them in place and concrete the base of the panels. Shape the floor with a deep end or a constant depth and lay a floor screed, connect some pipework, hang the vinyl liner and backfill behind the panels as you fill with water. That is that! Your swimming pool shell is built. It is not as difficult as you might think. Any competent builder/groundworker can get to this stage.
All you have to do now is connect the pool filtration equipment and you have a working swimming pool. This part can seem confusing if you have not done it before but we can guide through the process. All the items required to get you to this stage are included in our standard kit package.
You will need to install a surround to the pool. If you choose to put coping stones around the edge then we have the kit you need. We have coping stones with matching paving stones also.
You will probably want a heater. We can provide any heater you prefer but we do a special discount on Nirvana heat pumps if you buy a panel kit.
You might want a step unit for getting in and out. They are made from durable fibre glass and connect to the panels. We have a choice of 3 types of steps.
We can supply a summer solar cover and a winter debris cover too. Our add on kit includes a top of the range geobubble summer cover and Superweb winter cover
All of this is included in the standard kit, and as you would expect from PoolStore is it all top quality brand named kit that you will be able to get spares for in future. No cheap imported stuff.

Polymer panels

Pool Shell Equipment

(Skimmers, eyebal inlets, main drain, vac point, etc)

Steel reinforcing bars

All necessary pipework

(inc Bends, Ts, valves, sockets, sealant, ptfe tape, etc)

Lacron Sand filter

Sand Media

Starite Duraglass pump
3 tread stainless steel ladder
30 thou patterned with tileband liner

Liner lock and corners

Maintenance kit

(incl pole, vac head, leaf net, brush, thermometer, etc)

Full set of pool chemicals
In addition to the standard kit you may also want to have any of the following add-on kits.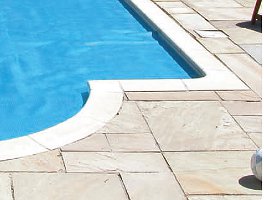 Cranbourne Danebury
copings and corners

600 micron Geobubble solar cover
Monte Carlo reel system
Superweb style winter cover

Fibreglass 6ft square step unit
Plain White

The appropriate sized Nirvana heat pump

One mulitcoloured LED light
Transformer and deck box

An 8ft or 10ft semi circular roman end step unit
Plain White
Use the table below to work out the cost of your swimming pool kit
Call or email us and we can put together a bespoke quotation for your individual requirements.