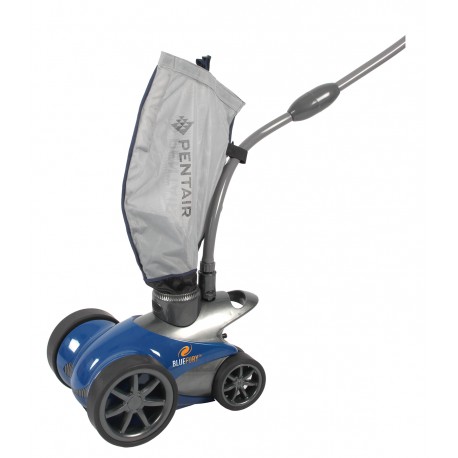 The Pentair Bluefury GT pressure-side pool cleaner is designed for cleaning the floor and walls of an inground pool.
A simple to operate pool cleaner that just attaches to your dedicated pressure line within your pool and then watch it go to work. Combine the Bluefury GT with a StaRite Boostrite Booster pump for maximum performance.The Bluefury GT has a modern and technologically-advanced design meaning its sleek styling and its aggressive pursuit of dirt and debris makes it 30% faster at cleaning than any other pressure side pool cleaner in the market. Fitted with 4 venturi jets and a large front rotating brush that scrubs and scours your pool for a deeper clean. The Bluefury GT also boasts a large intake to capture debris of all sizes, which is also helped a by the 40% larger vacuum tube fitted to the cleaner.
Nighttime cleaning is enhanced by the water turbine powered Ultra-bright LEDS lights fitted around the Bluefury GT pool cleaner.
Features:Includes a flow gauge to set cleaner speed.Internal back up valve.Cleans continuously in forward and reverse modes for complete and uninterupted coverage.Fitted with 4 venturi jets.Large intake captures debris of all sizes.Ultra-Bright LED lights to enhance nighttime cleaning.2 Year warranty.
Delivery lead time is around 2-3 working days from order RRP = £1,089.00