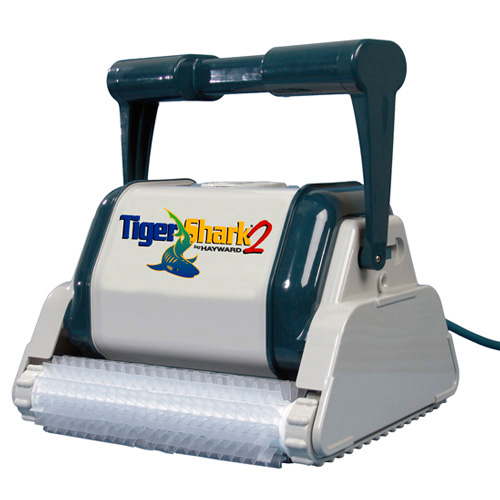 The Tiger Shark 2 Automatic Swimming Pool Cleaner for larger pools.
Known for years for their sturdiness and effectiveness, this cleaner works separately from the pool's filtration system, cleaning the pool floor and walls up to the water line. Filters down to 5 micron particle size.
Comes with 30m of cable, has a 7 hour run cycle and is therefore suitable for pools up to 60'x 30' (18m x 9m)
The Tiger Shark is fully automatic, self-contained and requires no additional hoses or set up.
Simply set it in the pool and you are on your way to a crystal clean pool like never before!
The Tiger Shark reads and calculates the size of your pool with its on-board computer and programs itself into the most efficient cleaning pattern for a spotless pool. A convenient shut-off function turns the unit off automatically at the end of the cleaning cycle. Its powerful on-board pump sucks up dirt and debris while roving the bottom of the pool, walls, inclines and steps so your pool will sparkle from rim to rim!
The Tiger Shark is also the first and only portable robotic cleaner to feature a patented easy-clean removable cartridge. Just remove and rinse clean with a garden hose. It's as easy as 1, 2, 3! You can experience a crystal clean pool like never before... with the Tiger Shark 2 by Aqua Vac!
The Tiger Shark has two types of roller and can come with a handy caddy for storage and transportation. Gel rollers are the most common choice, they are suitable for liner and concrete pools. If your pool has smooth ceramic tiles choose the foam rollers.
Tiger Shark 2 with Gel Rollers - £1,450.00. Tiger Shark with Foam Rollers £1,450.00 Caddy £110.00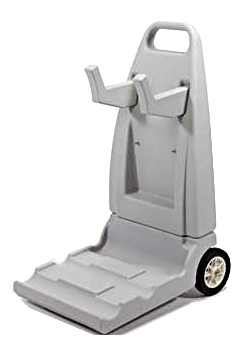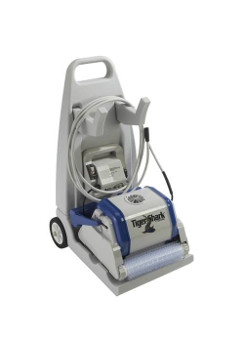 Comes with a 2 Year manufacturers warranty
RRP from: £2,199.00