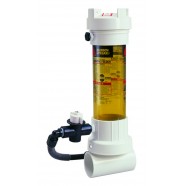 The Rainbow 320 Inline Chlorine/ Bromine feeder has a simple, trouble free design, to make sanitizing your pool or spa as efficient and easy as possible. Not only do these feeders save time they also reduce the manual handling of pool chemicals.
The chamber is clear sided to allow you to keep an eye on when the feeder needs topping up with Bromine or Chlorine tablets. The chamber has a capacity of up to 2.2kg of tablets at any one time.
The 1.5 inch connectors allow this feeder to be permanantly fixed into place in the return line of a new or existing pool, downstream of all other equipment.
The Rainbow 320 is suitable for Bromine pools up to 11,500 Gallons and Chlorine pools up to 22,500 Gallons.