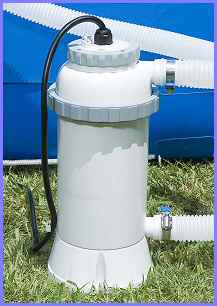 The Intex 2kw electric swimming pool heater.
The most cost effective solution to heating a small garden pool.
Made to be compatible with the Easy Set and Frame pools.
Suitable for any above ground pool up to 12ft round*
Easy to connect to your pool.
You simply remove the hose from your filter and connect it to the heater. Then connect the hose supplied back to your filter.
Not the best looking heater on the market but the highest quality and most effective in it's price range. 
* Your pool must have a separate pump and filter with hose connections.
RRP £165.00
Please read our blog posting about the best ways to heat an above ground pool using electric pool heaters