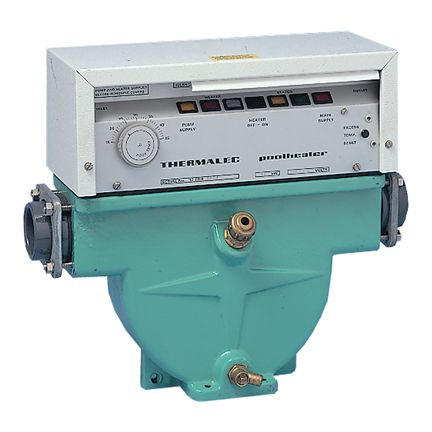 The Thermalec electric swimming pool heater
British made.
Designed for inground pools but equally good for above ground pools
The manufacturer claims that run on economy 7 tariff electricity these are cheapest to run of all heaters. PoolStore disagrees with this claim. We think a heat pump is cheaper. 
Single or three phase up to 24kW, Three phase only thereafter.
Heaters are sized by kW (KiloWatts)
These products can have a lead time of around 5-7 working days from order as they tend to be made to order.
| Size | Max. Pool Size (ft) | Retail Price | PoolStore Price |
| --- | --- | --- | --- |
| 12 kW (1 or 3ph) | 10 x 20 | £2,126.00 | £1,595.00 |
| 18 kW (1 or 3ph) | 12 x 24 | £3,060.00 | £2,195.00 |
| 24 kW (1 or 3ph) | 14 x 28 | £3,402.00 | £2,395.00 |
| 30 kW (3ph) | 16 x 32 | £4,362.00 | £2,995.00 |
| 48 kW (3ph) | 20 x 40 | £5,898.00 | £3,895.00 |
| 60 kW (3ph) | 25 x 50 | £6,348.00 | £4,195.00 |
| 72 kW (3ph) | 28 x 56 | £6,948.00 | £4,895.00 |