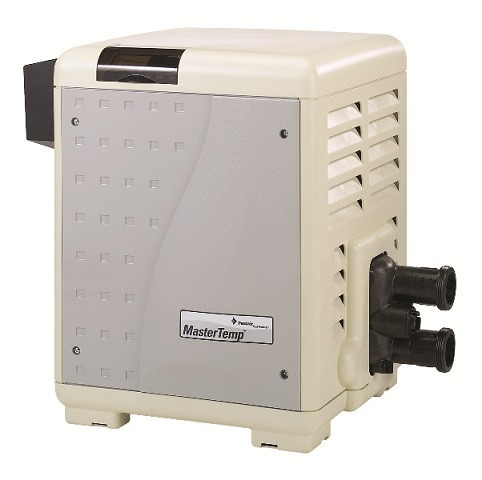 The Master Temp gas heater from Pentair.
The Master Temp is a step up in pool heating technology and brought to you by Pentair the biggest manufacturer of pool products in the world.
The first thing you notice about this pool heater is it size. It has s footprint of only  21 inches x 21 inches and is 23 or 28 inches high. Easy to install in any location.
The digital display shows the pool temperature and is easy to program. Five LEDs show the system status and it even tels you when it needs servicing.
Super quiet and super efficient operation
Hot surface ignition means no pilot light.
All Models use a 4" Flue
LPG or Natural gas and four different sizes.
 Prices start from £2,595.00
| Size | Max. Pool Size | Retail Price | Retail Price |
| --- | --- | --- | --- |
| 125,000 BTU | 12 x 24 | £3,424.00 | £2,595.00 |
| 200,000 BTU | 14 x 28 | £4,284.00 | £3,095.00 |
| 300,000 BTU | 16 x 32 | £5,078.00 | £3,595.00 |
| 400,000 BTU | 20 x 40 | £5,590.00 | £3,795.00 |
The lead time from an order is around 3-4 working days