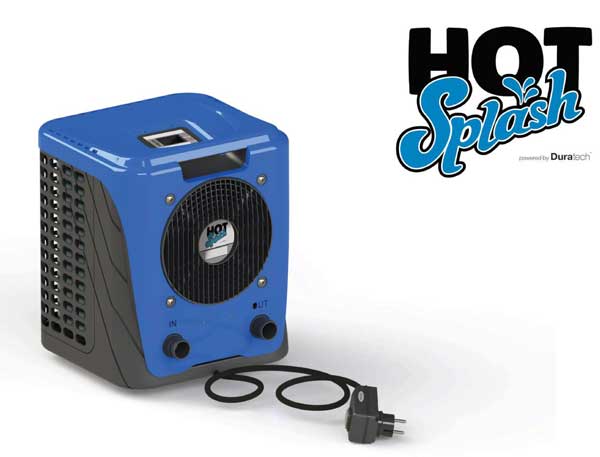 The Hot Splash Plug and Play Heat Pump
The Hot Splash 3,75kW is the worlds smallest plug and play heat pump and can be installed easily and safely by the end user.
This extremely compact heat pump (L,29cm x W,31cm x H,37cm) is also lightweight at 15kg and is suitable for outdoor above ground pools up to 9m3. This heat pump operates in combination with a low power circulation pump to help extend your swimming season.
Incorporated into the high quality corrosion proof and UV resistant polymer casing design is a carry handle, to make moving the unit around much easier. 
Features:
Eco friendly R32 Gas.
Will operate in ambient air as low as +10C.
High energy efficiency (COP up to 6) = Lower pool heating costs.
Titanium Heat exchanger is resitant to corrosion from pool chemicals.
Intuitive easy to use 3 button control panel.
Power Consumption = 0.56kW.
Minimum flow rate required from your pump and filter is 2m3/h
2 year warranty.
Included:
1.25" (32mm) 2 metre long hose for easy connection to most above ground pools.
2 x Hose Clips.
Integrated RCD mains UK 3 pin plug and a 2.5m cable.
RRP = £599.00