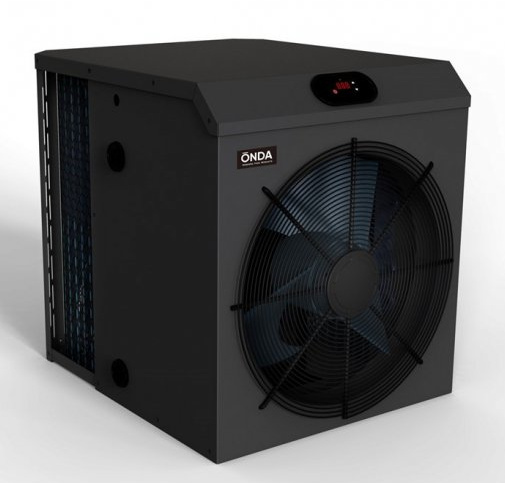 The Onda Mini Swimming Pool Heat Pump. 
An ideal heat pump for the smaller swimming pool. 
Easy to install.
Cheap to run.
Small and neat.
Simple to use
Environmentally friendly.
A best selling European heat pump bought in to replace the best selling UK heat pump, the Ecowarm Sunspring, which has sold out for 2021
The Onda Mini heat pump manages to combine the cheap price associated with a Chinese made heater with the reliability of a European heater. They are fully guaranteed for 2 years. It is a neat, compact unit with the fan on the side.
The Onda Mini is ideal for the above ground pool owners with prices starting at £1,000 less than the bigger models.  Even at these low prices the Onda Mini Heat Pump still has a titanium heat exchanger.
| Model No. | Electricity Used | Heat Input to Water at 25C |
| --- | --- | --- |
| OMH35 | 0.54 kW | 3.5 kW |
| OMH50 | 0.84 kW | 5.0 kW |
| OMH70 | 1.02 kW | 7.0 kW  |
Which Size Heat Pump is best for you...
| Pool Size | Heat Pump Model | Retail Price | PoolStore Price |
| --- | --- | --- | --- |
| Up to 10ft Circle or (10m3) | OHP35 | £798.00 | £595.00 inc VAT and delivery  |
| Up to 12ft Circle or (12m3) | OHP50 | £979.00 | £745.00 inc VAT and delivery |
| Up to 15ft Circle or (20m3) | OHP70 | £1,026.00 | £895.00 inc VAT and delivery |
Heat pumps are sited outdoors. You will only need a 13amp electricity supply for all 3 of these models but note that  they have a European 2 pin plug fixed to the unit. We supply, free of charge, an adaptor to make the plug fit a UK plug socket.
The plumbing to the pool is simple. See Further Information below for some help with this.
The unit comes with two hose tails, 4 hose clips and 1 long length of pipe (the instructions say 2  short lengths). You probably will not need to use the length of pipe. 
The OHP35 is 412mm x367mm x 425mm and the OHP50 and 70  are 484mm x 445mm x 503mm that is about 1ft 6in x 1ft 6in x 1ft 8in  
Some important features of Onda Mini Heat Pumps:
Suitable for Above and Inground pools.
C.O.P up to 4.7 (At 25c ambient air temperature).
Will operate in ambient air as low as +8C
Electronic display and controls.
Eco friendly R32 gas.
2 year parts and labour warranty.
Available for immediate shipment.
All heat pumps refrigerant and water tested prior to dispatch.
Comes with 3.5 metres of cable.
Noise output 57db at 1m 
The Delivery lead time on this product is around 1 week from the order.