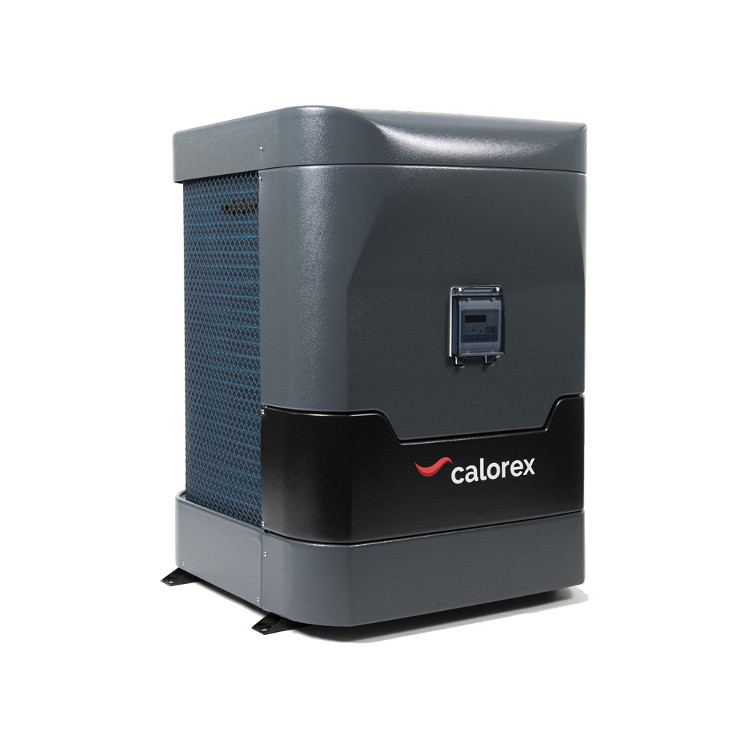 The Calorex V-PAC range of Heat Pumps have been designed by Dantherm in the UK for the UK Climate.
The NEW V-PAC range of inverter heat pumps are designed with the popular top mounted fan and evaporator on 3 sides of the unit for extended UK season usage (April - October).
Inverter technology used in these heat pumps, not only gives lower running costs and a soft start up, but also reduces sound levels to a 'whisper'. This reduction in sound equates to around 11dB(A). Inverter technology also eliminates the micro surges on start up associated with standard on/off controlled heat pumps. 
The V-PAC range of inverter heat pumps only uses the Low Global Warming Potential (GWP) R32 refrigerant and the compact size of the units also have a small footprint which is compliant with permitted development rights.
In terms of performance the V-PAC range will work down into temperatures of -5C and and operate an average COP of 9.9 when the ambient air temperature is at 27C. 
Features:
Higher COP's than traditional on/off heat pumps
ABS cabinet
1.5" or 50mm Water Connections
3 Year parts and labour warranty
| Model No. | Usage | Capacity | Dimensions (cm) | Pool size | MCB type C | Retail Price | Poolstore Price |
| --- | --- | --- | --- | --- | --- | --- | --- |
| VPT12ALX | April - October | 14.11 kW | 65w x 65d x 84h | 28ft x 14ft | 16 Amp | £4,472.00 | £3,940.00 |
| VPT16ALX | April - October | 18.50 kW | 65w x 65d x 84h | 32ft x 16ft |  20 Amp | £5,566.00 | £4,890.00 |
| VPT22ALX | April - October | 24.40 kW | 75w x 75d x 97h | 36ft x 18ft |  32 Amp | £6,078.00 | £5,350.00  |
All prices incude VAT and delivery to a UK Mainland address
Delivery lead Time is around 2-3 working days