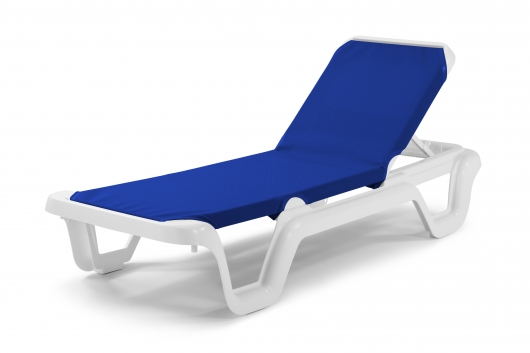 The Lola Sun Lounger by Balliu.
Highest quality resin and fabric lounger as seen in the best hotels and cruise liners.
Stylish and sleek design includes five adjustable positions.
Includes safety features, such as designs that prevent fingers from getting caught between the frame and backrest and loungers that will not tip over when someone sits on the edge.
The unique Balliu fabric is made of plastic-coated polyester. It is characterised by being breathable, UV-resistant, and features long lasting anti-microbial protection. The anti-microbial protection lengthens the life of the fabric, is very hygienic and protects against odour and stains caused by long periods of exposure to moisture.
Fabric colours available from stock: Blue and Dark Grey. Other colours available to order.
1 x Lola Lounger  RRP = £443.00  and 2 x Lola Lounger RRP = £886.00
PoolStore Price  £360.00  for one or  £680.00  for Two. Delivery Free.
Delivery Time - usually 4 to 6 days.