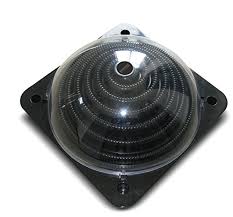 The Keops Solar Pod - A new and simple way to use solar heating on any swimming pool.
The Solar Pod is designed with above ground pools in mind but it can be used on in-ground pools also.
Water from the pool circulates around the specially designed heat absorbing coils. The coils are under a clear polycarbonate dome that creates a "greenhouse" effect, boosting the heat.
Each pod is a compact 570mm x 570mm x 320mm (about 2ft x 2ft) and comes with all the necessary bits to connect straight to your pool pipes and to connect one to another. The only tool you will need is a screwdriver.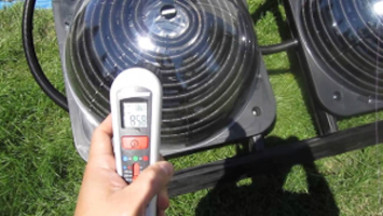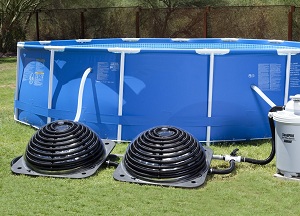 The manufacturer states that one Solar Pod is enough to warm 10,000 litres but we recommend a usage of one pod per 5,000 litres (about 1,000 gallons) of pool water.  See the table below for how many pods per pool and our prices. 
| Pool Size | Approx Volume | Approx Volume | PoolStore Price |
| --- | --- | --- | --- |
| 8ft Round | 4,100 litres | One pod | £120.00 |
| 10ft Round | 7,600 litres | Two pods | £240.00 |
| 12ft Round | 13,100 litres | Three pods | £360.00 |
| 15ft Round | 19,100 litres | Four Pods | £480.00 |
Each Solar Pod Kit includes:
Main Base with  2 stands
Heater Dome Cover
2 x 1.25" to 1.5" hose reducers
2 x 1.25" Hose Connection Elbows
2 x Hose clamps
Thick connection flat gasket
Threaded nut hose connector
1 x 0.90m hose (1.5" flexible) for connecting to filter/pump
1 x 0.37m hose (1.5" flexible) for connecting to another Pod
Also available is a Solar Heater Bypass Kit:
Recommended for use with solar pod heaters fitted to above ground pools.
Allows bypass of solar pod heaters when they are not is use.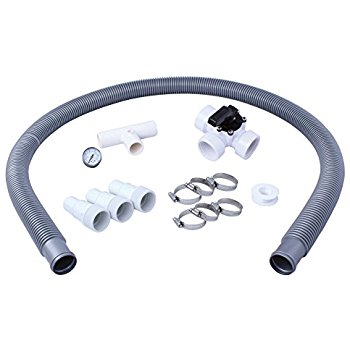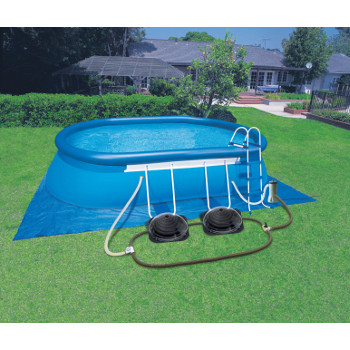 Read our  Blog Posting on the pros and cons of solar heating