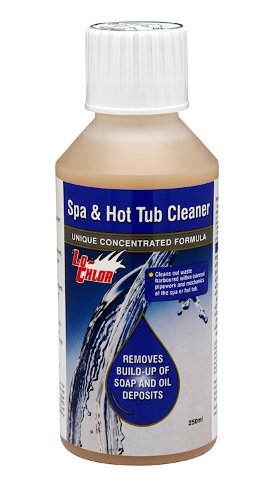 Lo Chlor Spa and Hot Tub Cleaner is a must have chemical for all spa owners. A specially formulated chemical to deep cleanse your spa, it gets in to your pipes and gives them a good clean.
Spas and Hot Tubs can harbour undesirable body fats, oils and soaps which can result in noxious odours and discoloured water. 
This problem is most noticeable in spas that retain water in the pipe-work, even when the spa has been emptied. 
This Spa and Hot Tub System Cleaner is specially formulated eliminate these problems. 
You should empty and re-fill your spa about every 3 months. Before you empty it take your filters out, pour all 250mls of Spa and Hot Tub Cleaner in to your water. Circulate it and then leave it for an hour. 
After an hour turn the circulation on for a few minutes and you may be shocked at what this cleaner has taken off your pipes. Dump all the water and re-fill with fresh water.