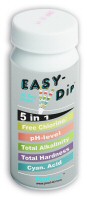 Five in One water testing strips
Dip the strip in the pool for 5 seconds and read off levels against the colour chart on the pack.
Tests for Free Chlorine, pH and Total Alkalinity, Cyanuric Acid and Total Hardness
Each pack contains 50 strips.
Tests just about every level you could need.
Ideal for a quick check to see if your water is OK.
RRP £15.00