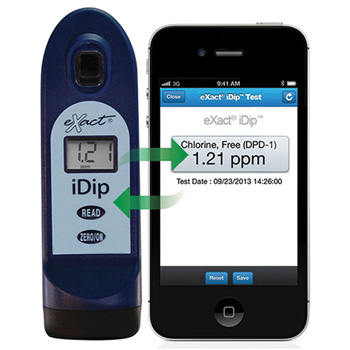 The eXact iDip® Smart Photometer System®– Smart Digital Water Testing®
The new and innovative eXact iDip Swimming pool test photometer is easy to use with the new eXact iDip app which provides complete blutooth wireless connectivity between the iPhone, iPad, iPod Touch and Android devices. With guaranteed exact results in less time, our new smarter process will revolutionize water testing. The eXact iDip®photometer is manufactured using the highest quality standards and is capable of running over 40 water quality tests and counting! We constantly develop new tests for the iDip® that can be downloaded instantly within the app. The application stores the test results history of multiple water sources. Data can be shared via email and the built-in GPS feature allows for easy retrieval of water testing locations.
Key Features
Innovative - Only handheld photometer to communicate with a smartphoneCustomise - Only download the tests you wantLocation - First handheld photometer system that's GPS enabledSmart - Uses the latest Bluetooth smart low energy green technologyIntegrity - Reduce human error by incorporating results with time, date and location stampLow Cost - Meter integrates smartphone technology by harnessing its computing powerConvenient - Easy purchasing of supplies in the appAccurate - In app updates for best accuracyWaterproof - IP-67 rated and it floats in water
The Big Question: Why would I pay £205.00 for this tester when I can get one for £12.00?
The single most important thing a pool owner needs to know is the chemical levels in his pool water. What ever you use to test the water needs to be accurate. This tester is for people with big pools. Pools that would have cost anything from £1,500 to £150,000 to install. Having spent that much on the pool why skimp on the most important part of its upkeep?
Most popular tests
Free Chlorine/ Bromine - DPD1 - 100 test strips
pH - 100 test strips
Total Alkalinity - 100 test strips
Total Chlorine - DPD3 - 100 test strips
Calcium Hardness - 50 test strips
Ozone - DPD4 - 100 test strips
Salt - 25 test strips
Phosphate - 50 test strips
Cyanuric Acid - 60 liquid drop tests
Purchase your required tests online through the link below or call our sales team on 0800 690 6288