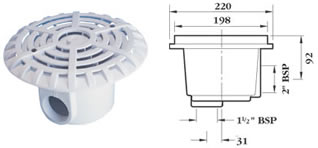 This Certikin Main Drain comes with an anti vertex grille and the current recommendations state that every pool should have at least two Main Drains. 
The maximum flow on 1.5 inch pipework is 10m3 per hour and on 2 inch pipework 12m3 per hour
This will mean that at least one Main Drain on every pool will need the bottom port closed off, thats why the Certikin Main Drains have a Knock out blanking plate in the bottom port to save you time and money on site when installing these products. 
Please Note:  On commercial or shallow pool builds, stainless steel main drain grilles must be used. If required then Please call our Sales Team on 0800 6906288 for a price on these items.
RRP = £56.00