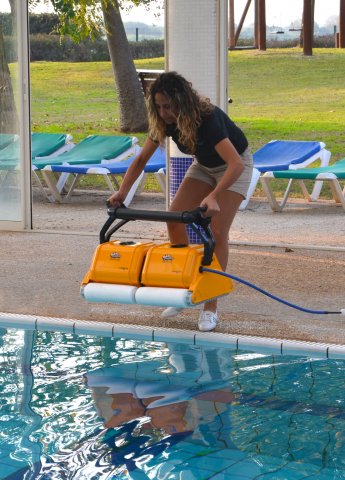 The Dolphin 2x2 Pro Gyro swimming pool cleaner are the proven and professional solution to any commercial pool up to 33 metres in length. This unit combines the power of two robots at once with the heavy duty and fully automated cleaner, providing heavy duty cleaning performances, with robust reliability for long-term, cost effective operation.
The Dual brushing action along with the dual high capacity ultra fine filtration systems and a sophisticated gyroscope expertly cleans with maximum effectiveness and efficiency the entire swimming pool floor and walls. This fully automated operation will allow your staff to focus on other tasks, whilst your pool water is left sparkling clean after every cleaning cycle.
Comes complete with Caddy, Remote Control and wonderbrushes for tiled pools.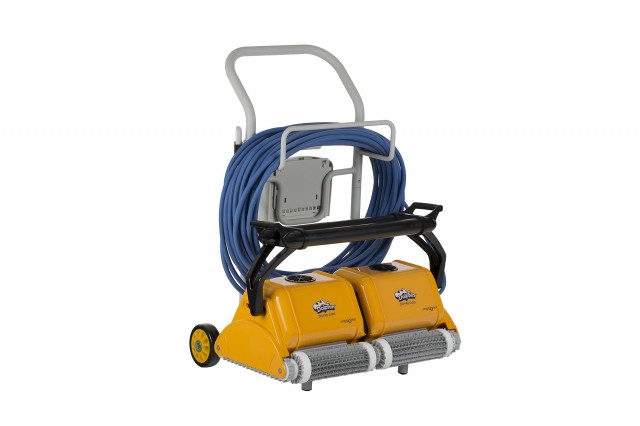 Underside View Pool cleaner in storage on caddy
Benefits and Features
-
Cycle Time
4 / 6 / 8 Hours
Cable Length
40 metres
Brushes
Wonderbrushes for all terrains
Remote Control
Included - Manual operation, set up parameters and cleaning programmes
Filtration
Dual level filtration for fine and rough dirt and debris and a Full filter bag indicator
Caddy 
Included - for easy storage and moving pool cleaner around
Swivel on cable
Prevents cable tangling when cleaner is in use
Weight 
20kg
Suction Rate
32m3 per hour
Moving speed
15 metres per minute
Cleaning area
450m2 per hour
Power Supply
Output <30 VDC
Warranty
24 Months
RRP = £7,740.00