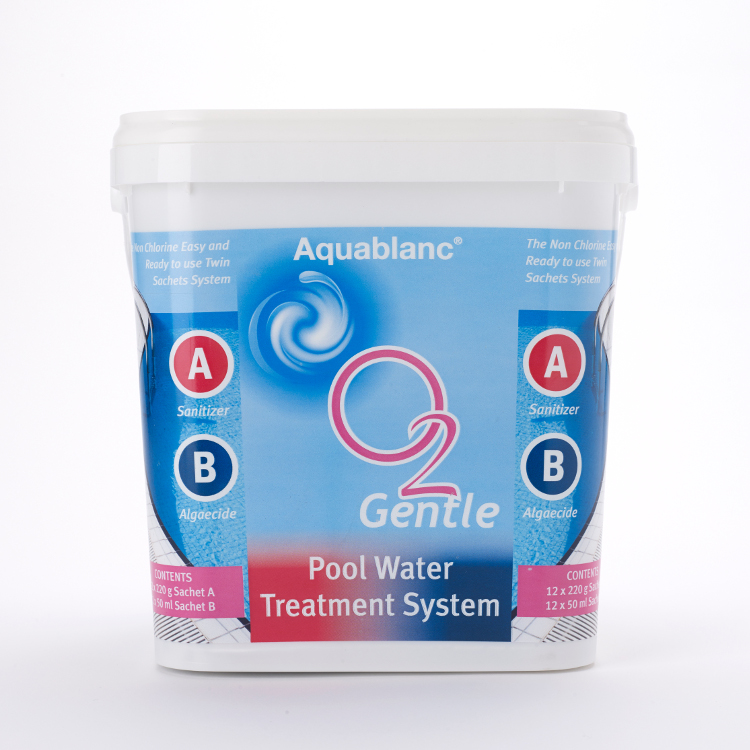 Aquablanc O2 is a twin sachet (A & B) simple to use, Chlorine free disinfection treatment for your swimming pool water. Aquablanc O2 is based on active oxygen (A), which is non-odorous, gentle and soft to the skin, eyes and hair of swimming pool users. The second component is the algaecide (B) which enhances the effectiveness of the disinfection process.
Together the two components create a reliable water treatment system that guarantees optimal water quality. In addition the water treatment system includes substances to clarify the water ensuring the water remains crystal clear. Finally scale prevention and pH buffering agents are included to ensure the simple and complete operation of this O2 gentle system.
The dosage rates are shown in the table below.
Usage/ Application. Each Box Contains 12 x A and 12 x B Sachets
| m3 / gallons | 20m3 / 4,400 | 30m3 / 6,600 | 40m3 / 8,800 | 50m3 / 11,000 | 60m3 / 13,200 |
| --- | --- | --- | --- | --- | --- |
| Initial 1st day | 2 x A + B | 3 x A + B | 4 x A + B | 5 x A + B | 6 x A + B |
| regularly every | 7th day 1 x A + B | 4th day 1 x A + B | 7th day 2 x A + B | 5th day 2 x A + B | 7th day 3 x A + B |